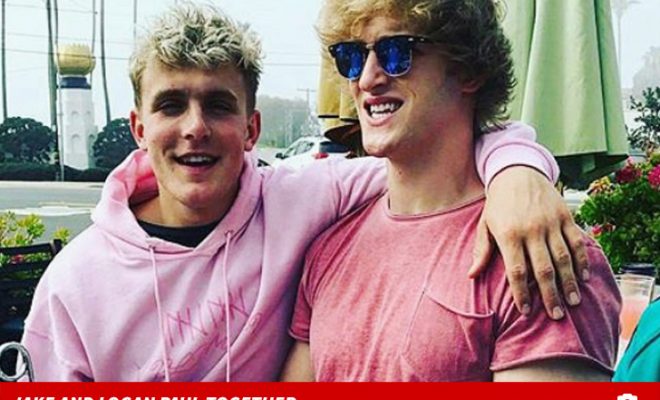 News & Info
The Paul Brothers Being Racist, #JustAnotherSunday :)
By
|
The Paul Bros are the gift from Ohio that keeps giving (us content to talk about). The brothers are no strangers to controversy, the first wave of which began with the younger brother, Jake Paul (former Disney channel star), facing criticism for being a public nuisance in his neighborhood and allegedly abusing his live in employees (especially his on again off again girlfriend) part of Team10.
Now footage has been released to TMZ in which Jake is dropping N-bombs during a freestyle rap during Coachella last year. Jake freestyled over Rae Sremmurd's "Throw Sum Mo" beat, and early in the video, around 7 seconds, he raps something about … "little ass n***as."
Later he says, "I whip it like my n***a Richie Vetter, he make the pu**y so wet it gets wetter."
"A source connected to Jake tells us the 20-year-old isn't racist" (TMZ). TMZ's Jake source says the actor and YouTube sensation has matured a lot since this video was shot 8 months ago. Okay.
Jake Paul was known to be the annoying younger brother, and Logan Paul was assumed to be older, more mature, with more sense in the head. Unfortunately, that is not the case as these brothers are two branches off the same tree.
Logan received Youtube wide backlash where he proceeded to film in the Aokigahara forest (also known as the Suicide Forest, where many venture into to commit suicide). While in the Forest, Paul wore a hideous green hat, that provided an offensive contrast to the seriousness of the Forest's nature. This hat may also be representative of his childish mindset and how he is so far removed from reality, especially so when he filmed someone who committed suicide. Logan posted the video to Youtube and set the body as a Youtube thumbnail.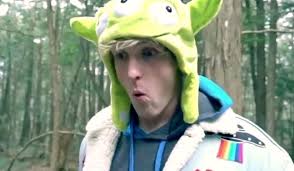 After the backlash Logan posted an apology to Twitter, a narcissistic non-apology no less.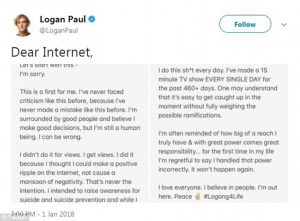 After even more backlash Logan posted a more somber apology video to Youtube, which went #1 on the trending page, watch that here.
Logan eventually concluded that his social media fame has led him to blur the line between the Internet and the real world, and so he will be talking a break from the Internet. We hope that he will take his brother with him, and they both come back with more wholesome content.
It should be noted that Logan Paul has a history of racism, especially against Asian people, watch Keren Joy's video here.
Read more via: http://www.tmz.com/2018/01/05/jake-paul-freestyle-raps-n-word/