Music
SZA, girl, Solange Knowles Is Not Your Friend
By
|
I was watching SZA's SNL performance of her song The Weekend, and many #MessyBetties said that they came from another video: the official video for The Weekend.
We have waited for this video ever since SZA dropped that single. And so I raced to watch the video and honestly… I enjoyed it. Even though SZA did not have a… storyline like most music videos (involving cheating significant others) I still enjoyed the interpretive dancing, the hair (I love me some SZA hair), the care free black girl aesthetic and all. When I found out the Solange Knowles directed the video it made it that much better, I was ecstatic because it was true #blackgirlmagic!
But everyone was clowning SZA in the comments section saying how this was Cranes In The Garbage, and how this is what happens when you contact the wrong Knowles sister, or even how this was Solange's revenge for SZA's old tweet about Beyonce: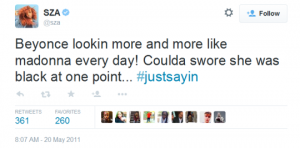 Apparently, that was 9 years ago, when SZA was 19. I will leave it at that.
Check out Khadi Don's hilarious parody of the music video here.
But the more likely reason why everyone felt that Solange 'sabotaged' SZA is that the song The Weekend is promoting side chick culture, and if Solange would beat down JayZ in the elevator for allegedly cheating on her sister then maybe she is capable of this…
The Internet, proves to be too much sometimes. I loved the video, but if everyone else thought it was strange then maybe Solange simply missed the mark on this one.